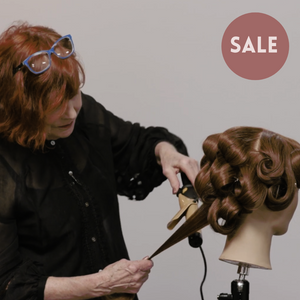 An opportunity of a lifetime: Power Up Your Styling Game with Sharon Blain's Exclusive Online Training

15% Off for Black Friday: A special discount to kick-start your transformation

Are you a hairstylist or makeup artist looking to take your skills to the next level and achieve your dreams you never thought possible? Then you're in for an incredible opportunity! After the resounding success of The Final World Tour, the renowned Sharon Blain is now offering exclusive one-on-one online training sessions for hairstylists and makeup artists worldwide.

Here's why this is an opportunity of a lifetime:
✨ 1-Hour Zoom Classes: Sharon Blain's expertise delivered to you in convenient 1-hour online sessions.
✨ Never-Before Opportunity: For the first time ever, Sharon Blain is offering this exclusive chance to learn from her one-on-one.
✨ 50+ Years of Expertise: Learn from a true industry legend with decades of experience.
✨ Ask All Your Questions: Pick her brain and get answers to all your burning questions.
✨ Comfortable and Approachable: Sharon's teaching style is welcoming and supportive, making the learning process seamless.
✨ Fully Customisable: Tailored to cater to hairstylists at all levels, regardless of your goals.
✨ Worldwide Access: No matter where you are, this opportunity is open for you.

✨ Pay in your own currency: You will check out in Australian dollars but will be billed in your own currency

Sharon Blain isn't just an industry icon; she's a legend. She has trained celebrity hairdressers and hairstylists who have gone on to win Oscars. Her vast experience and proven track record make her the ultimate mentor for your journey.
Sharon is generous, creative, and unstoppable in her love for the industry. Her mission is clear: to elevate your styling game to a level that's truly out of this world.
No matter what your goals are, Sharon's comprehensive step-by-step proven formulas can help you get there. With Sharon as your guide, your styling dreams are within reach.
She's traveled the world, educating thousands of stylists, and now, this undisputed queen of styling hair can be with you online at your comfort and convenience.
Don't miss out on this incredible opportunity to learn from the best. Book today, and our team will be in touch to secure a date and time for your exclusive one-on-one session with Sharon Blain. Your journey to becoming an exceptional hairstylist starts here! ✨