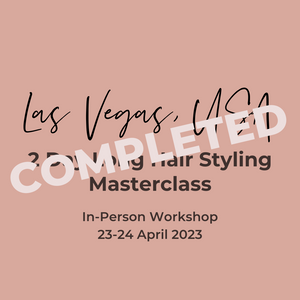 COMPLETED!  



Price: AUD$1280 - Secure your place with a $200 deposit
Approximately USD$885 (slight pricing variation may occur due to exchange rate). You will checkout in Australian dollars and be billed in your currency. 

PAYMENT OPTIONS 
1.Online Payment Plans 
Start your payment plan today with ease! You can pay for your class through Partial.ly when paying the balance owing. Please tap the blue button at checkout.
2.PayPal Pay in 4 
Fast, flexible and secure. No interest charged. Simply select PayPal at checkout and then select the Pay in 4 option.

See our terms and conditions here

BECOME THE CONFIDENT STYLIST!
Stay relevant, on-trend and in-demand with this high-powered 2-day class

Want to elevate your styling game to something out of this world? Then there really is only one person that comes to mind when you think of the top global long hair specialists – the person that celebrity stylists turn to for training when they have an Oscars client waiting in the wings – and that stylist is Sharon Blain. 

DATE & TIME
Sunday 23 - Monday 24 April 2023
9:30am-4:00pm each day, with registration at 9:15am on the first day

EDUCATOR
Sharon Blain

LOCATION
Square Salon
1225 S Fort Apache Rd Suite 160,
Las Vegas, NV 89117

PRICING INCLUDES
-Mannequin head for loan of the duration of the class 
-Styling products provided for the duration of the class
-Workbook
-SBE certificate 
-Light lunch > Standard, Gluten Free and Vegetarian dietary supplied only  
WHO SHOULD ATTEND?
Hair stylists, hairdressers, freelance stylists and bridal providers, recent graduates in hair and makeup, graduated or seasoned makeup artists and creative and artistic individuals looking for a career change.

WHAT YOU WILL LEARN?
Hair fashion is ever evolving. In this 2-day hands-on workshop, learn a variety of on- trend looks for the upcoming red carpet, bridal, and special events season.   
Covered in these action-packed 2 days are:
-Stunning and innovative braids
-Beautiful deconstruction up do's
-The secrets to wave perfection
-How to use chopsticks for simple fun looks
-Statement ponies and so much more

This short creative course covers core basic hair techniques showing you how to combine them with simple but effective styles to ensure you are on-trend with all the latest looks.
If you are looking for a class to push you artistically, and to simplify complex looks, then join Sharon Blain as she rolls out her latest 2023 trends. 
GET READY TO...
-Learn to prepare, long lasting beautiful looks in a tight time frame
-Learning quick and achievable techniques on different hair lengths
-Gain more confidence to help you deal with demanding guests
-Take your hair styling skills to the next level
-Enjoy a new refreshing approach to dressing long hair  

BONUS OFFERINGS
-Discount on all Sharon Blain products
-Discount on further Sharon Blain Education courses
-All students will have access to our private student hub Facebook group. It's a space where you can connect with fellow hairdressers from around the world, a place to support, motivate, and to inspire each other
WHAT TO BRING
Once you book your spot, you will receive a confirmation email. Please follow the instructions to download your tool list and all other important information prior to the workshop.
HAVE ANY QUESTIONS?
We are here to help! Please email us at info@sharonblain.com
TRAVEL ARRANGEMENTS
If you are planning on booking flights and accommodation, please refer to our terms and conditions prior to making travel arrangements. 
Join thousands of raving fans who have taken their skills to new heights with Sharon Blain's proven and award-winning methods. Check out some words from our wonderful students below.  
All the techniques and how basic skills can make something AMAZING.
Jaymi Campanella
Learning all the little tips and tricks like, secret braid, bobby pinning, pony tail, creating padding out of their own hair. Just everything Sharon taught us it's a life time worth of knowledge and oh sewing, sewing and sewing.. Genius.
Samantha Linnenbank.
The God of hair, that is Sharon Blain.
Anmor Jahar
What impressed me most is, the knowledge, simplicity of the style I used to think were a lot harder. Sharon approachable personality to the training.
Rene Saville
Everything was broken right down and simplified as we learned new skills, it all built up and added together. I loved it 
Lucy-Anne Lynn
I love the professional but friendly atmosphere and the generosity of sharing knowledge. Expanding existing knowledge and sparking creativity. 
Michele Miles