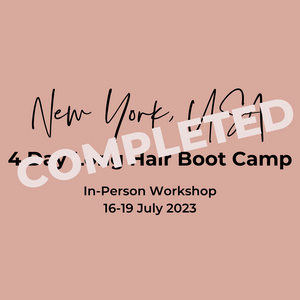 COMPLETED!
Sharon is a true artist, whose scope of diverse skills and unique hairdressing techniques has earned her respect as an educator and mentor. Her innovative long hair dressing styling covers the full spectrum from stunning bridal and celebrity red carpet hair styles and extreme but beautiful avant-garde dressing 


CELEBRATING OUR 60TH BOOT CAMP IN NEW YORK! Join Sharon as she Goes Out In Style!

Price: AUD$2,900 
Approximately USD$1,950 (slight pricing variation may occur due to exchange rate). You will checkout in Australian dollars and be billed in your currency. 

Educator
Sharon Blain 

Date
16-19 July 2023

Time
8:30am-5:00pm with registration at 8:00am on the first day

Address
Studio
11 Broadway
Brooklyn, NY, USA

Who should attend?
Hair stylists, hairdressers, freelance stylists and bridal providers, recent graduates in hair and makeup, graduated or seasoned makeup artists and creative and artistic individuals looking for a career change. 

What will you learn?
Under the tutelage of Blain herself, the course covers blow-drying, waves, curls, bridal, red carpet, editorial and avant-garde styling.

Boot Camp participants will learn everything they need to know to be at the top of their game. Sharon Blain's Boot Camp is the first of its kind and is an exciting chance for apprentices, hairdressers, and make-up artists to be taught by one of the industry's top professionals.

The course will combine both step-by-step instructions, as well as look and learn delivery and students are encouraged to photograph and video the course for future reference

Enjoy an intimate, hands-on learning environment with a ratio of 1 educator to 10 students.  

Course Format

Finger waves, pin curls, roller setting, creative tongs, curls, blow drying and waves.

Fundamentals of long hair design and elements of design. Learn how to create the perfect polished classical styles including chignons and various classic shapes.

Explore the world of beautiful bridal hair covering a variety of popular braids incorporated into stunning romantic looks for the coming wedding season. Red Carpet: contemporary hair dressing for special events, editorial shoots and constructing looks from the latest runway shows.

Photography: learn secrets behind developing a winning photographic collection. Session styling and show work that covers hair piece work, special effects and avant-garde hair design.
What's included?

Light lunch > Standard, Gluten Free and Vegetarian dietary supplied only 

Mannequin head during the course duration and yours to take home

Mini styling kit

Products

Workshop booklet

Graduation Certificate

Discount on all Sharon Blain products

Discount on further Sharon Blain Education courses

All students will have access to our private student hub Facebook group. It's a space to keep you updated with course details, a place to meet new stylists and to keep in touch with fellow students you meet inside the classroom. 



What to bring?
Once you book your spot, you will receive a confirmation email. Please follow the instructions to download your tool list and all other important information prior to the course.

Have any questions? 
We are here to help! Please feel free to call Vanessa on +61 (0)430 554 534 or email us at info@sharonblain.com   
___________________________________________________________

DON'T TAKE OUR WORD FOR IT, TAKE THE WORD OF OUR AWE-INSPIRING INDUSTRY LEGENDS…
"A great opportunity"
A great opportunity to learn from an icon
Tabatha Coffey
"Such an inspirational mentor to so many"
Sharon Blain is one of our top educators and has continued to share her passion and knowledge with Boot Camp Online. Such an inspirational mentor to so many. What a great learning environment with so much content. Love it!  
Joey Scandizzo
AND OUR WONDERFUL PAST BOOT CAMPERS…
"The most growth in my styling skills"
Everything I thought I knew about styling was challenged and my way was challenged and through some frustration I had the most growth in my styling skills this week because of a woman who put every ounce of her heart and soul into every minute of our time with her I am so fortunate to have met and gained an incredible mentor thank you
Boot Camper: @danipinto_hm

"Invest in yourself and your career"
@sharonblaineducation and #sharonblainbootcamp WILL change your creative outlook, your way of doing, Hell the woman will change your life. Years later and I'm still swooning over the experience.
Boot Camper: @vnsalvati.hair